Vox Duo is an independent collaboration between Karla Anne Grant (a Scottish soprano) and Julia Solomon (an English/Brazilian mezzo soprano), completing their studies at the Royal Conservatoire of Scotland (RCS) in June 2020.
Since 2018, Vox Duo have worked in close collaboration with RCS classical pianists to present recitals of German lieder, French mélodie, Italian, English and Scots song, and also oratorio, opera and operetta arias. They have performed in St Mary's Cathedral in Glasgow and St Mary's Merton in London in their own Vox Duo concerts, and for the Glasgow Art Club and at the Kodàly Erasmus+ Event in The National Piping Centre.
Below you can learn a little more about each of us.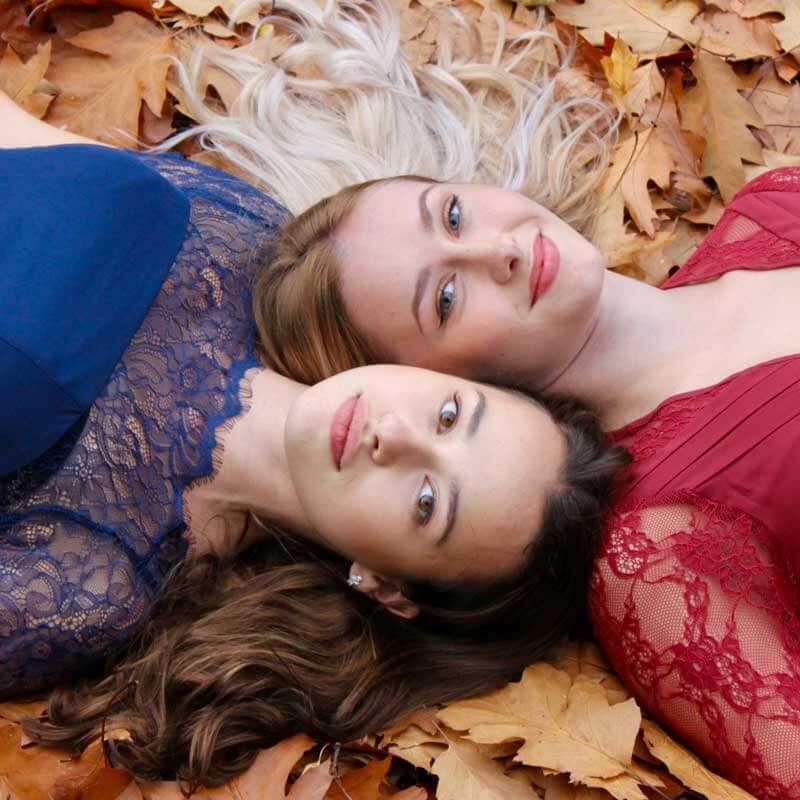 Karla Grant
Karla Grant is a Soprano currently studying at The Royal Conservatoire of Scotland on the Undergraduate Vocal Performance programme under the tutelage of Wilma MacDougall. During the summer of 2017, Karla was a young artist at the New Generation Festival in Florence, performing in the chorus of Donizetti's L'elisir d'amore. Karla has also played some lead roles in musical theatre, such as Maria in West Side Story, and one of the principal roles in Godspell. She was delighted to have been selected from her year to represent the Royal Conservatoire of Scotland at the Kathleen Ferrier Award for Young Singers in 2017. Karla is a proud member of the Les Sirènes female chamber choir (2016-). She has also been a keen member of the National Youth Choir of Scotland for eleven years and during that time has had many opportunities to perform at a high level in large choral works. In July 2017 she was honoured to be chosen as a soloist for a live BBC TV Broadcast in commemoration of the Passchendale Battle in Belgium and most recently, performed Berlioz' Lelio in Carnegie Hall with NYCoS and  John Eliot Gardiners Orchestre Révolutionnaire et Romantique.
Julia Solomon
Julia Solomon is a mezzo-soprano currently studying for a Bachelor of Music in Vocal Performance at the Royal Conservatoire of Scotland under the tutelage of Wilma MacDougall. She is grateful to be supported by an RCS scholarship and by the EMI Sound Foundation. She was inspired by singing with the Royal Opera House Children's Chorus in Puccini's La Bohème, Humperdinck's Hänsel und Gretel and Janacek's The Cunning Little Vixen, in which she also understudied the roles of the Young Vixen and Caterpillar. With RCS, Julia has been in the chorus of Prokofiev's The Fiery Angel (Scottish Opera 2017), Dove's The Day After (2018), and Weill's Street Scene (2018). Julia has also played a string of principal roles in straight drama and musical theatre (Seymour in Little Shop of Horrors; Miss Dorothy in Thoroughly Modern Millie; Yum-Yum in Hot Mikado; Titorelli in Kafka's The Trial; The Mad Hatter in Alice in Wonderland). Julia was Richmond Upon Thames Young Singer of the Year 2015, and has a strong choral background having sung with the Thames Youth Choir for many years, and now with the RCS Chamber Choir and Les Sirènes.
Media & Recordings
Here you will find recordings and video of vox duo performances